What is a Business Intelligence Strategy: Tell-Tale Signs You Need One
Successful initiatives start with a clear goal and strategy. An estimated 37% of projects that businesses undertake fail due to a lack of clear objectives and milestones. If you don't know exactly where you're going and how to measure your progress, the likelihood that you'll end up where you intended is doubtful. Many businesses manage their data and implement business intelligence tools in a similarly haphazard way. They gather data as a consequence of doing business without thinking about how it relates to their goals.
This is surprisingly easy for companies to do. Data floods in from CRM records, transactions, sales numbers, marketing results, operations, finance, accounting, and more. Soon each department implements the solution that works for them, but that doesn't allow the company as a whole to have timely access to accurate data. As the company grows, managing the data becomes more and more difficult, and it's harder to find one comprehensive source of information.
What if the data you needed to answer your most critical questions was always available and easy to access? What if employees across the organization could access data without sending IT a slog of requests for reports? This is where business intelligence strategy comes into play.
Business intelligence solutions help organizations aggregate their data into a single source of truth for all employees. An effective business intelligence strategy ensures that you use your BI solution to its greatest potential and that its use can grow and expand with the company through years of decision-making.
Business intelligence solutions turn the unending stream of zeros and ones into information that will assist your business moving forward. Keeping it simple, business intelligence solutions get facts into the hands of stakeholders and employees to help them improve every decision they make. That process won't happen magically when you invest in a business intelligence tool. It takes a strategy.

Your data should be actionable and produce valuable insight. Without an effective business intelligence strategy, you'll have a lot of data, and you might have the tools set up to access it, but you'll get less insight out of it that relates to your most important business objectives.
All of the parts that make a well-oiled business intelligence machine must work together seamlessly to deliver insight to employees and leadership at the moment they need it. When you have an effective business intelligence strategy, data-driven decision making can become a part of the everyday fabric of your company's culture.
Need to know more about what BI is before reading about BI strategy? Check out our Business Intelligence Guide for Business Leaders here.
What is a Business Intelligence Strategy?
A business intelligence strategy addresses every aspect of how your company will use data. A strategy closely ties the use of BI tools and techniques to your business objectives.
A business intelligence strategy answers: What are our key business objectives and how will business intelligence deliver the measures to ensure we are successful? How will we apply business intelligence tools to our operations? How are we going to engrain BI into our daily work to drive value? And how can we measure success? Business intelligence strategy needs to flow from the overall business objectives to ensure you get the key results you want and that you have measures and metrics in place to demonstrate progress.
Any good BI strategy will address:
Leadership + Accountability
Business Goals
Data Infrastructure, Tools, + Governance
Execution
Training + Community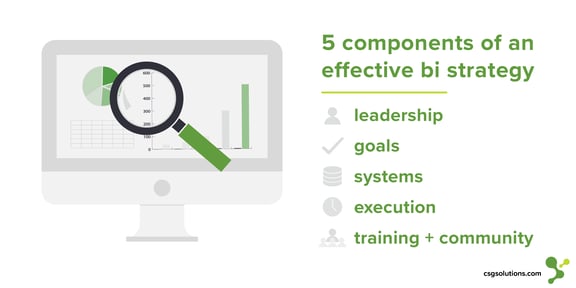 Leadership + Accountability
Who is in charge of your BI strategy and execution and is accountable for its success, enabling timely action by people in the organization?
A successful business intelligence strategy requires leadership involvement in the implementation and ongoing refinement of your business intelligence solution. Leaders from every area of your company should be a part of creating your strategy and should identify key business goals, decide what data to gather or organize, maintain accountability during execution, and measure success.
This group of leaders goes beyond merely your IT staff. Every key player in your business should understand how the new business intelligence tools and strategy will help them reach their goals, so all should be a part of vision-casting and decide what goals will benefit from business intelligence.
Engaged executive sponsorship is the top driver of whether a project meets its original goal and business intent. Inviting leaders into your business intelligence efforts benefits your strategy by:
Fostering ownership and accountability for success and generating an adequate ROI
Proving the value of the initiative for employees. (If it's worth the time of leadership to plan and learn the tool, it's surely worth employees' time to train and learn a new tool too.)
Helping your company reach your goals. Without the right leaders in the room, it will be hard to assess what data you need to make available, take stock of current processes that aren't working, and set up project milestones.
Assigning a source of accountability. Leaders will spur employees on toward becoming more data-driven, asking for data behind decisions in meetings, using data to share the reasoning behind new initiatives, and following up on how often and effectively employees are using your business intelligence solution.
Business Goals:
What data do you need to collect, organize, and make available in order to track progress on your company's strategic business goals and chart the course for the future?
The data you collect, store, and organize should tie in closely with your strategic business goals and overall business strategy. Without a business intelligence strategy, your company might gather the data that is most convenient to gather but perhaps not the most useful to your business. Even if you have a lot of data it might not tell you what you need to know in order to measure success or learn more about your customer or operations. An effective strategy ensures that you use your business intelligence solution to actually get ahead - not just gather more data.

We know you're most likely not just collecting data aimlessly, but assessing how your data supports your goals will set you up to identify any roadblocks. You will be able to ask and actually answer: Does our data provide the indication we need of progress toward our goals? How could we measure this better? Is there any component of this goal that we haven't focused enough attention on and need to support with data? Is there a key piece of data that we're missing about one of our goals, and how can we put processes in place to start collecting that data?
A business intelligence strategy helps you understand more about your goals and, importantly, gives employees the information they need to run toward your goals with you. If you equip them with the data they need to measure success and if you tell them where you're going, you give them the power to assess and redirect their own actions. You can then enter every discussion with an employee with both of you already knowing where you're at in your progress toward your goals, and the rest of the discussion can address what it will take to accomplish them.
Without a strategy, many companies skip the step of measuring the value of their investment beyond knowing how they saved by consolidating tools and processes. You should be able to determine the ROI of your investment also in terms of: "What goals would we not have been able to accomplish without this solution? What value do we put on the new data mindset of employees and the fact that they can now make decisions more quickly and with more information? Did this solution help us accomplish certain goals more quickly and what is that time saved worth to us?"
Data Infrastructure, Tools, and Governance
Do your data processes and infrastructure enhance seamless access to data through your business intelligence tools? What tool will you use and will it grow with the business? Do you have the employees and processes in place to maintain and govern the new system?
A business intelligence strategy will help you intentionally assess the sustainability of your data storage infrastructure, your current business intelligence tools and processes, and governed access for employees. This component comes most naturally for businesses, even if they don't have a strong strategy, because most companies already have or see the need for some sort of business intelligence solution. Having these discussions about data storage and access alongside the other components of your strategy will ensure that your data infrastructure will serve your business goals for the long term.
To learn more about the technical process of choosing and setting up business intelligence systems, read our e-book here.
Execution
What is your process and timeline for deploying your business intelligence solution? Are you truly empowering your employees to use it daily? What benchmarks and milestones will help you measure progress in your strategy?
You will fully explore use cases and reassess your processes for how employees use data. How will you know if they're using the new tool effectively? Will leadership expect managers to follow up on certain KPIs by looking at the data with their employees? How often will that happen? How should Suzie in HR be using the business intelligence solution as opposed to Ralph in marketing? At what points will data intersect with each employees' job responsibilities? And what discussions should absolutely involve data?
The specific plan for using your business intelligence solution is crucial to getting value out of your investment. When you discuss execution, you will pinpoint key moments that someone should interact with data.
If data is not part of your employees' workflow yet, your business intelligence strategy will outline those important data touchpoints and determine what those new data habits will look like for people in your company. When people take every opportunity possible to use data, you'll get more value out of your business intelligence solution, so you should clearly map out these opportunities in your business intelligence strategy.
This far-reaching execution plan also ensures that every department that can be using the business intelligence solution will be. What if sales asked for an overall BI solution, but in formulating your strategy you realize that it could easily solve problems for operations as well? By taking the time to create a strategy, you open yourself up to opportunity and map out how the business intelligence solution could roll out to every department.
Training + Community
How will you instill your business intelligence vision in your employees? How will you empower them to use your new business intelligence solution? How will they become proficient in exploring your company's data? Who is in charge of training? And how will you continue to foster a community that is passionate about infusing every discussion and decision with data?
Finally, training is where you exercise your commitment muscle. By investing and planning ongoing training into your business intelligence strategy, you show your commitment to being a data-driven company and to having employees use the solution. A data-driven company is one that equips every employee to make better decisions, inform their day-to-day activities with data, and share their findings with their colleagues. Through adequate training and in the context of an enthusiastic data-focused community, employees establish a muscle memory for using your BI tool and start to understand the nitty gritty of how it can actually transform what they do on a daily basis.
Consistent training and community around data helps employees know what information is available to them so that they can make more convincing, data-informed presentations and come into every meeting understanding the true state of your business and customers' needs. Training and collaboration cements the new processes that you cast vision for in your strategy. If employees don't know the new tool and ways they can use it like the back of their hand, they will be more likely to revert to old systems and processes, merely out of unfamiliarity.

It's tempting to schedule one training after deploying your business intelligence solution and then call it a day, but we suggest creating a long-term plan for training and community. Beyond the initial training your plan should include opportunities for employees to continue growing their skills past the beginner level as well as chances for employees to connect regularly in data-focused forums and meetings. Through ongoing learning and opportunities to collaborate they'll get to ask questions, share exciting discoveries, and gain inspiration from how other employees are using BI in new, innovative ways.
Regular community especially inspires employees to get creative with the way they use data rather than just using it daily for the same old report. With the support of other internal champions who are passionate about data and use it creatively, new users gain the encouragement and experience they need to start answering their own questions and to ask new ones that could move your business forward! When employees are comfortable with your BI tools and processes and know they have a supportive community around them, they worry less about how to use the BI tool or what is possible with it and focus instead on exploring the data!
When you get to a place of proficiency with even a fraction of your employees and leadership and have ways for employees to collaborate and support each other, you'll start to see data changing the way people make decisions and inform their direction. It will transform the way your company makes both minute and weighty decisions.
How Will a Business Intelligence Strategy Specifically Enhance Decision-Making throughout Your Company?
With an effective strategy for business intelligence, you will:
Understand your own business better. Goodbye blind spots. Your strategy will ensure that you consider all relevant data. You can use your BI solution to assess your own performance, understand your market, and even use predictive analytics to find what initiatives are worth investing in based on past performance. You will harness every type of data analysis available for your business benefit.
Gain a competitive edge. You'll understand your business's inefficiencies to remove any drag, and you can even include assessing your competitors' performance and markets as a core part of your business intelligence strategy! If you feel like you trail behind your competitors in any area, you can find out why and strategically bridge the gap.
Have all the info before making decisions. Data from business intelligence helps you mitigate risk in your decision-making. With an effective BI strategy, you can come to every conversation more informed and with more questions answered. You can use data as much as possible, then rely on gut-feel only when absolutely necessary. Data and insight will enhance your best business instincts.
Speed up your decision-making. When the data makes a solution or problem plain, you

can take action more quickly. You can test your hunches and any feedback from customers and employees by looking into the data. You'll waste less time comparing data and take action sooner.

You'll gain clarity on who your customer is and what they want most. If sales of a certain product are drying up, you'll see it quickly. If your customer base is growing in a certain demographic, you'll know it and can regularly align marketing with their interests. With BI integrated into employees' workflow, you'll know your customer and serve them better. These processes for understanding your customer are all coordinated in your strategy.
You'll be able to trust your data. The right data will be available, and employees will be able to trust it. Your business intelligence strategy will ensure proper management and governance so that your data sets are reliable and ready for immediate use.
You'll share insights clearly and quickly with data visualization. Data visualizations communicate insight

more effectively than spreadsheets

, hands down. Your business intelligence strategy will equip every employee to use data visualization to make the data behind your company's initiatives apparent more quickly. You'll provide information to any audience more effectively and increase the speed at which you gain consensus and take action.
Signs Your Company Needs a Stronger Business Intelligence Strategy
Many companies have BI tools but fail in the area of their BI strategy and execution. The symptoms of an ineffective business intelligence strategy can show up throughout the organization - in how employees make decisions and what motivates their actions, in data accessibility and organization, in missing data or lack of reporting, and in how you follow-up on strategic initiatives.
Want to know if you skipped the strategy step or need to strengthen your strategy? Or do you have a business intelligence tool but feel like you're getting little out of it? Here are some signs your company could benefit from a stronger business intelligence strategy:
Data is not available to demonstrate clear progress toward your strategic business goals

or business

decisions aren't easily backed up by data.
You have a BI tool but people don't access it regularly or you don't have measures and processes in place to monitor how often people use your BI tool in each department and for what purposes.
Data is missing or regularly unavailable.
Many employees who need to pull reports are not proficient at it or even though you have a BI tool they still ask someone else (usually IT) to pull reports for them.
Employees don't know how to explore information around their job activities and don't show curiosity around data. They don't understand how to use the BI tool well enough to get creative with their reporting and explore.
Employees don't use data visualization frequently to strengthen and streamline presentations or decisions.
There's not a point person or owner for your company's business intelligence efforts or your BI efforts don't extend beyond IT.
You implemented your business intelligence tool without discussion of objectives with leadership and key stakeholders from every area of your business.
You are getting different answers to the same question and have trouble identifying what data is accurate.
No matter where you are in your business intelligence journey, it isn't too late to go back and create your strategy or reassess. In fact, we suggest revisiting your business intelligence strategy regularly to continue to align your processes and your data with your goals. Even if you have a business intelligence tool (or several) already in place, it's not too late to strategize. Start talking with the data experts at csg to see what your data can do for you!
in need of a stronger business intelligence strategy?
check out our next post for a step by step guide to creating your BI strategy