4 Traits To Look For In A Custom Software development Partner
For those that are seriously considering moving down the custom software solution path, forming a partnership with a trusted and capable custom solutions provider is key to the solution's success. Your partnership should be a long-term prospect, as you'll likely look to them for assistance with potential issues, modifications and expansions for years into the future.
What traits does such a custom software partner possess? And how do you go about sorting the wheat from the chaff? Let's take a look at the key considerations that will help you to find your perfect custom software match.
matching your partner with your requirements
Whether you're looking to build an intricate process software or something more simple like a one-off mobile app, make sure to look for a developer who is reliable and who will be able to support you for the long-haul. You'll come across a wide array of experience and expertise when searching for a custom developer, and regardless of the size of the project, you'll be looking to form a long-term partnership.
The developer you choose will be responsible for managing your software for years to come. Whether you choose to partner with an individual developer or a larger development company with decades of custom builds under their belt, be sure to choose the partner that you know will be able to provide the level of ongoing support you will need.
Process software will require far more collaboration than a simple one-off app. For example, if you're looking to develop a Business Intelligence (BI) solution that will identify inefficiencies in your business systems and as yet untapped revenue streams, you will need a very experienced engineering and project management team who will understand the complex dynamics of working with data and will take time to learn the intricacies of your business. They will have the resources, knowledge and expertise to make such a solution possible and effective.
For process software, be sure that you partner with a custom team that puts a firm focus on long-term solutions and that will be readily available for updates, fixes and expansions when required. No matter whether your custom solution is a temporary fix until an ERP is rolled out in 12 months' time, or a long-term solution that you hope will guide your business for decades to come, your choice of software partner is the most important decision you'll make in the custom software solution process.

4 traits of an ideal custom software partner
An inquisitive and thorough nature is vitally important in order for your custom solution provider to truly understand your business's needs, wants, and any applicable constraints. If you feel as though important questions are being left unasked by a prospective partner, they may not be the best choice. Your first meeting with a potential solution provider should never end with them stating that they know exactly what you require. Understanding a business's situation takes time, and a good team will recognize that.
An effort to bring their expertise to your business problem or opportunity should be evident. You are the expert in your business, they are the expert in technology. They should work hard to understand your problem or opportunity and help you to identify the potential technical solutions to accomplish your goals. You may have some ideas on how you'd like the solution to look, but they should regularly offer suggestions or easier ways to make your ideal solution a technical reality.
Money makes the world go round, and no matter how perfect a fit a potential software partner may seem, if you can't afford them, you can't afford them. Just be wary of new players in the market; these developers will offer discounted rates, but may not have the required expertise or proven track record that your solution requires. You'll need to strike a balance between quality and affordability. It's important to remember that the long-term financial benefits of a quality solution can grow almost exponentially, so an investment now pays dividends in the future.
A proven track record should also be a non-negotiable. This shows that the company has knowledge and expertise, and demonstrates the sort of long-term commitment that you'll require from your partner. Look for custom software providers who have ample experience solving complex business problems with their solutions, and contact the companies that they have worked with previously to get an appraisal of their performance.
---
Custom Software or Off The Shelf?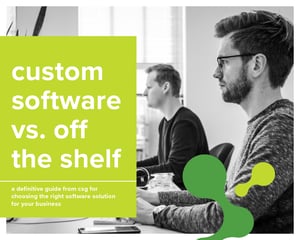 You've identified an area of your business that has room for improvement, whether that be in the form of an opportunity to streamline your operations, or the chance to capitalize on a new revenue stream. In order to create this improvement you'll need a capable piece of business software.In this ebook, you'll learn what to consider when building custom software vs. buying off the shelf.
If you are ready to discuss your specific challenges or what CSG can offer, you can contact us to learn more about how to start implementing your solution.