Create a Competitive Advantage with Custom Software
If you are using the same software solutions as your competitors, differentiating your business from the rest of the pack becomes increasingly difficult. You got into business because you do something better than everybody else. In a manner of speaking, people in the same industry "admire" that thing you do better than everyone- so much so in fact that over the course of time your competitors have been assimilating your techniques, duplicating your products & services, and potentially diluting your presence in the market by slowly replicating your differentiators. So how can you ensure that you'll retain that competitive edge throughout every season of your company?

It's Time to Fight Back
Custom software allows you to be more efficient or offer services your competitors cannot. Unless you are an actual accounting firm you probably use precisely the same assortment of tools (say Great Plains, Microsoft Dynamics, or Oracle Financial) that everybody else generally uses for that purpose. On the other hand, in the area in which you excel, there are plenty of opportunities to distinguish yourself with custom software.
Let's consider your inventory management system for a moment and make the wild supposition that you are an antiques dealer. The inventory system allows you to enter a product name, a SKU number, a quantity, the purchase price, and a markup. How useful is that if you're selling a Louis XIV gilded headboard, featuring a tableau in bold-relief, hand carved hunting scene with mounted horsemen, dogs and surrounding forest? I'll tell you what it is—almost entirely useless and extremely limiting.
You need a custom Inventory Management System that could support images, unlimited length descriptions, and integrate with your online catalog, or perhaps multiple catalogs where you offer your unique product. Clients could not only read a listing, but see the actual item with multiple views. If they were buying a 19th Century dining table they could see that it had 4, 6, or 8 chairs, and that there was a matching sideboard or china cabinet. Off the shelf (OTS) software limits you in a case like this—you can do much better. You want to sell antiques, not use antique software.
Governmental Regulations
As ephemeral as the wind, legislation and rules can change quickly. Let's imagine that you're in an industry with an environmental impact. Suddenly new regulations arise stating that a group of things you have always counted as a single item now need to be differentiated, inventoried separately, and reported to different government offices.
Off-the-shelf software doesn't support these changes and allow you to easily adapt to the new regulations as needed. Whoever created the off-the-shelf system will probably offer an update to accommodate the change (eventually) or you may have to negotiate with them for a special (and costly) private update. This is particularly true if it is a one-state solution that doesn't have wide applications and probably won't generate much revenue for them.
On the other hand, with custom software, your provider already understands your software solution intimately; they understand your business model and what distinguishes you from everybody else. An update for your custom software, to accommodate this change, can be started immediately, on your timetable, and tailored to your business processes rather than forcing you to adapt to an arbitrary one from an off-the-shelf manufacturer.
You don't want to be at the mercy or whim of a generic off-the-shelf solution provider. Custom software returns control to you where you need it.
Best Practices
Compliance is a very important issue. Best practices are called best practices for a reason. Off-the-shelf software helps you reach best practice status very quickly. The irony, of course, is that using off-the-shelf software can be the dangerous rocks upon which your wave of progress dashes itself.
Consider: If you have a new technique that is better than current best practices in your industry, how will anyone ever know about it if you merely conform to the "standard"? The thing that makes you distinct and better could become the new best practice, if you give it a chance.
And the best part is that your custom software solution is your own Intellectual Property. Your custom software is something that your competitors don't have – indeed, your custom solution is something that they can't have. As long as it's well-designed, you should soon see yourself getting ahead of your competition. If companies wish to use the new best practice that you created, you might charge more for your services until others catch up, or even license your software to others in the industry and create a significant revenue stream for the company.
The Takeaway
Remember, almost all software started out as a single-solution for a single person (or company). Done correctly, your custom solution is what makes you better than your competitors. Stand up; stand out; be distinct. It's why you got into business in the first place, and custom software can help.
If you seem to be running into roadblocks with your current off-the-shelf solution, read this post to learn common signs that it's time to transition to custom software and to learn more about the custom software development process.
---
Custom Software or Off the Shelf?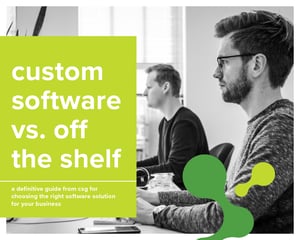 You've identified an area of your business that has room for improvement, whether that be in the form of an opportunity to streamline your operations, or the chance to capitalize on a new revenue stream. In order to create this improvement you'll need a capable piece of business software. In this ebook, you'll learn what to consider when building custom software vs. buying off-the-shelf.
maximize your custom software budget, timeline, and results
read our guide to create a competitive advantage with your software